Heritage Acres Building Guide
This Building Guide will give you a glimpse of the history and importance that many of these buildings hold.
Moody Building
This is one of the oldest metal buildings in Canada. Prefabricated in England and shipped to the British Colonies, they were used for houses, hospitals, barracks and storage. This particular building was shipped to New Westminster in 1860 to be erected as a house for Colonel Moody, head of the regiment of Royal Engineers. He declined the offer and the building was sold to Mr. Gosset who had it erected on a building lot behind the parliament buildings. Emily Carr, the Victorian artist, mentions this building in her writings. Various families occupied the house until approximately 1930. At that time the BC government purchased it and it was used as a workshop. Later it was donated to our society and refurbished by our volunteers.
The Log Cabin
This cabin is a replica of a one room log cabin typically found in the Gold Rush period. Dwellings like this were often found in the forests of BC where plenty of logs were available as building material. These houses made made dry and warm homes for early settlers.
The Chapel
This chapel which was built on site seats 46 people and may be booked for weddings, private services and other events.
The Newman Building
The Newman Boathouse holds a collection of marine artifacts, cameras and photographs. These items, as well as the funds to construct the building were generously donated by Mr. John Newman. John, as a long time resident of the Saanich Peninsula, was a small boat builder, photographer and an Olympic rower in the 1930s. The basement of this building houses a collection of antique boat motors and marine paraphernalia.
Tillicum Building
The Tillicum Building was moved to its present location from the corner of Tillicum and Burnside Road during the presidency of Morris Mitchell in 2001. It belonged to the Dept. of Highways and was used to store and service their equipment which maintained the Malahat Highway. The building is now used to house some of our carriages, cars and trucks.  Originally, horses were kept in the part jutting out on the East (right) side of the building.
Vancouver Island Model Engineers (VIME)
Vancouver Island Model Engineers (VIME) is a separate non profit society from Saanich Historical Artifacts Society that runs several scale model trains around an extensive rail line which traverse a large part of Heritage Acres. This is a popular ride for kids and adults. It is also a good way to see some of the woodland. The trains run at most SHAS events and  can also be booked for private events.  If considering this option, bookings are taken at the first of February.
For more information visit www.VIME.ca
The Hatch Streetcar Barn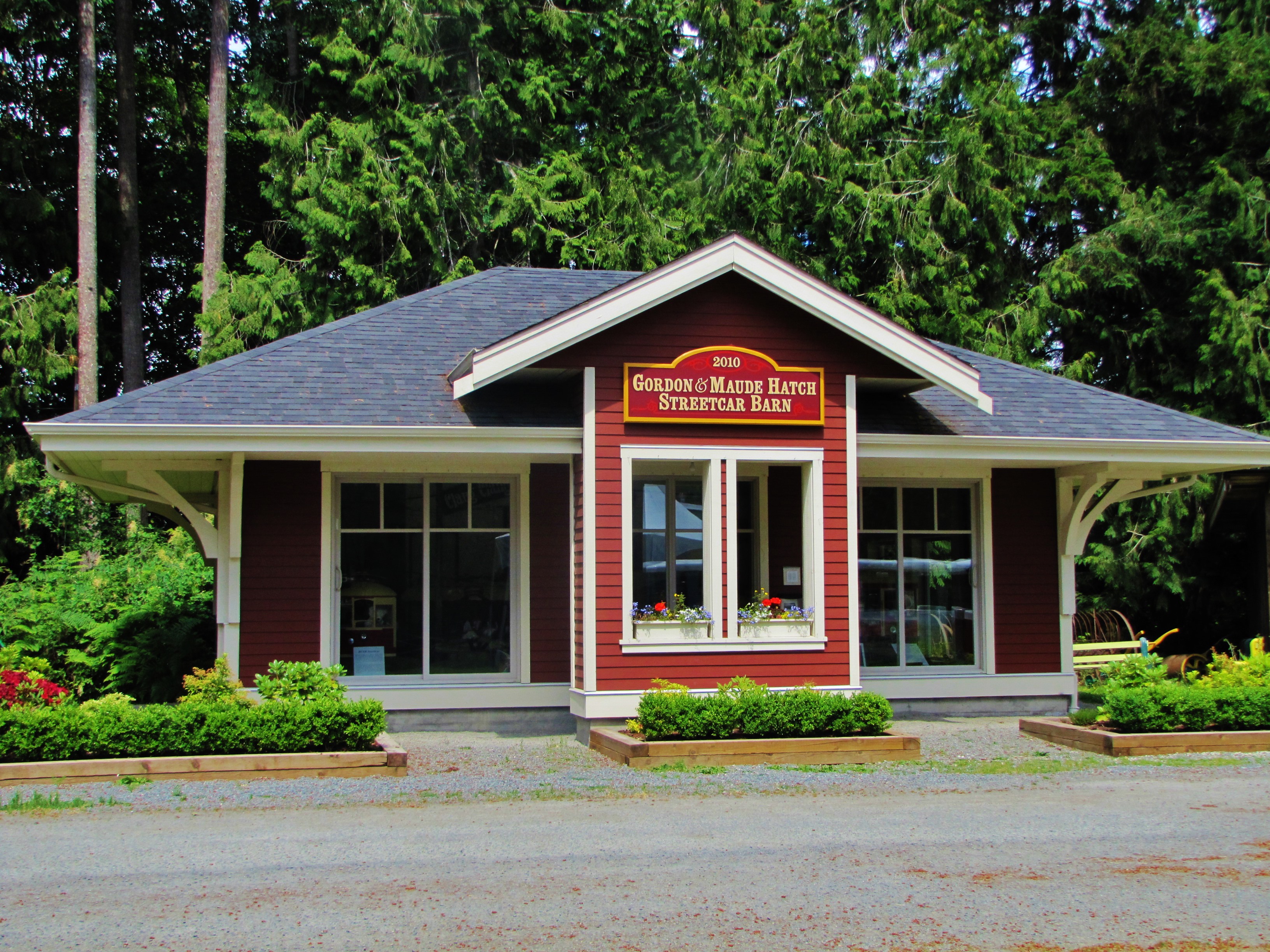 This building was erected on site in 2009 to house 1/4 scale, highly detailed model tram cars made by Gordon W Hatch. These cars took several decades to construct and are replicas of tramcars that were used in Victoria and the Saanich Peninsula until the 1940's. There are also many artifacts of rail-related interest on display.
The Gardener's Garage
The Gardener Garage was dedicated to Art Gardner who was the society's president from 1974 to 1994. His drive, energy and organizational skills have been of great value to the society. He owned a garage like this one in his earlier years.  The garage now houses chainsaws, old engines and automotive parts.
The Carpenter Shop
The carpenter shop is used daily and houses many woodworking machines and tools needed for the processing of lumber into the materials for construction and repairs of the many projects around this site.
The Saw Mill and Planer Shed
This working sawmill was built in 1910 and brought here in 1979. The big diesel engine turns a pulley that drives the saw blade. Logs are rolled onto the carriage that rides past the blade. The operator, or Sawyer, decides the dimensions of the beams and boards that will be cut from each log. A small conveyor carries the sawdust away from the blade. If the planks or boards need to be painted or stained they are then put through the planer to be made smooth.  Our patio frame and roof were built from timber cut from this sawmill.
The Blacksmith Shop
Our blacksmith shop is a popular shop for blacksmiths to learn and ply their trade.  Iron goes back centuries to the earliest cultures. Iron comes from mines as ore and it is smelted down first into lumps called pig iron and then into shapes that can be worked. Shaping is done on the anvil into the desired article or parts. In the early days the blacksmith made his own tools including special tongs for handling specific shapes.
The Michell Building
This building is dedicated to Willard Michell, a founding member of our society in 1980. The museum houses thousands of artifacts from a huge thimble collection to a completely restored Nickelodeon. You may also spot a mechanical horse along with many steam driven machines. Visit the old time Printing Shop and see how newspapers were produced. Discover hundreds of old world kitchen artifacts and appliances. You will be greeted by a Half Size Case steam engine as well as many old farming artifacts.  You will see weird and dangerous looking hair apparatus for curling hair. There is even a device to determine if a chick is male or female while still inside its egg. Take your time, there's lots to see in this building.